Winter doesn't have to be the end of all your fun. Why not enjoy the drop in temperature and head out on an Aussie road trip this winter?
We thought we'd share some of our favourite road trips across this ever-changing landscape, that are just as good or better to do in the cool, winter climate.
The Savannah Way, Cairns to Broome
For a true taste of northern Australian set out from Cairns, Queensland and take the Savannah Way through Northern Territory and into Broome, Western Australia. This 3,700km road trip takes you on a journey through tropical rainforests, central Queensland savannahs, bush, desert, and some of the most characteristic small towns you'll ever visit.
Stop along the way to see the stunning Millaa Millaa Falls, visit the Undara Lava Tubes, explore Cobbold Gorge, Boodjamulla National Park and so much more. Just make sure you've got a decent offroad vehicle and camper trailer so you can make the most of these rugged landscapes.
The days will still be warm (because it's the north of Australia) but it will be a lot more bearable in winter.
Sydney to Jervis Bay
For a shorter winter drive, you can do in a day, try the trip from Sydney to Jervis Bay. The drive takes you south along the Grand Pacific Drive, over the scenic Sea Cliff Bridge and through the Royal National Park – the second oldest National Park in the world, behind Yellowstone.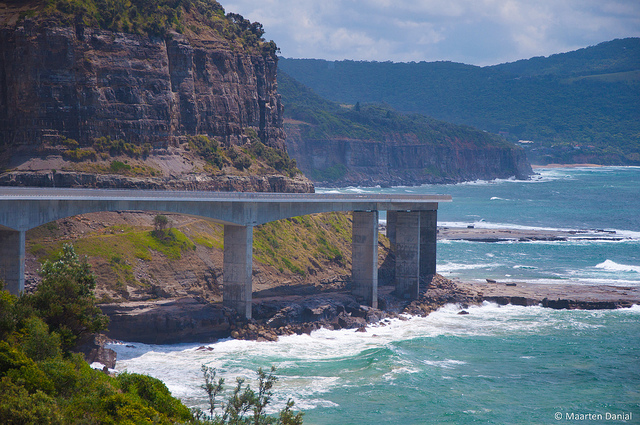 Adelaide to Darwin, along the Stuart Highway
You'll truly come to appreciate just how big Australia is when you realise you started this road trip in cold weather and finished in a tropical climate.
The Stuart Highway is easily accessible to all vehicles and takes you a colossal 3,000km or more through Australia's red centre. There are plenty of places to stop and camp along the way, not to mention some of the best roadside attractions in the world.
See the thermal springs of Mataranka, the Devil's Marbles of Karlu Karly, Alice Springs, and landscapes that look more Martian than Australian. You'll regret not bringing a camera on this drive.
Along the Murray River
Follow the steady heart line of Australia's southern region, the Murray River. It begins in Wodonga up in the winter snow, making its way down along the NSW border before crossing into South Australia.
Make the most of the scenery, as well as the iconic places you'll pass through. Stop in at Rutherglen for a taste of some of Victoria's best wines, take a ride on Echuca's famous paddlesteamers, and visit the city of Mildura for everything from history to gardens, dining and more.
Launceston to Hobart, Tasmania
Another short drive you could do in a day is the trip from Launceston to Hobart along the east coast of the island.
Any drive in Tasmania will afford you some incredible views, but this will take you through some iconic destinations, including the Bay of Fires, Binalong Bay, Port Arthur and Freycinet National Park.
Tasmania is a beautiful place to visit any day of the year, but in winter it becomes something almost magical as the colours of the landscape change throughout the day.
So what are you waiting for? It's time to get out there on the open road.
If you could do with an upgrade before you head out on a winter road trip, talk to us at Aussie Car Loans. We can help you with fast new and used car finance so you don't have to miss out on your holiday plans. We can even arrange car insurance and extended warranty to give you peace of mind while you're travelling.
Call us on 1300 889 669 or simply apply online to get things started today.