The appeal of drifting is in the complete mastery of one's car, which takes both skill and bravery. But before taking your drifting skills to the next level, you'll need a car to master in the first place. As a beginner, finding the right car can be a challenge.
To help you find a high performing drift car without going broke, we listed the top 5 most affordable drift cars for beginners on the market today. Check them out and who knows, maybe one of them might just be what you've been looking for in a drift car.
1. BMW M3 E36
BMW M3 E36 is, without a question, the go-to best-value drift car no matter where you are in the world. Many pro drifters today had this powerful machine as one of their first real cars. Its immense popularity on the drifting scene can be explained only once you experience what its remarkable chassis can do at a price around $10,000.
This German engineered coupe uses a naturally aspirated 3.0-liter straight-six engine that ran through five-speed manual transmissions producing 243 horsepower at 6000 rpm and a torque of 225 pound-feet as it rolls out. It can accelerate from 0 – 60 mph in 5.5 s and records a top speed of 155 mph.
With the high-performance aspect of the car, great looks, and affordability, it is unsurprising that it is the most sought car to enter the drifting world at a low cost.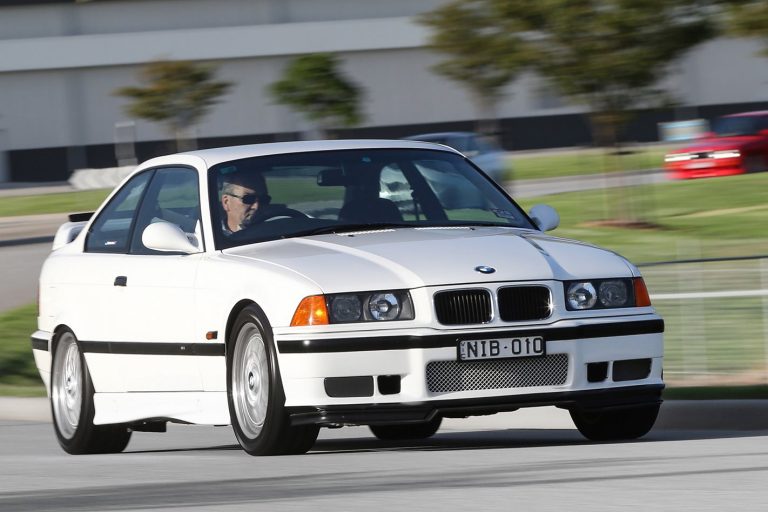 Image courtesy: whichcar.com.au
2.Toyota Chaser JZX100
The big-bodied Toyota Chaser JZX100 can be found for under $10,000. Though it is not quite as sought after as the BMW E36 (mostly because of its appearance), JZX100 is a solid drift car choice for beginners.
This cheap entry-level drift car boasts of a variable valve timing 2.5 – liter turbocharged six-cylinder engine that produces a standard output of 280 horsepower and 279 pound-feet of torque. It can accelerate from 0 – 60 mph in 5 seconds and records a top speed of 161 mph. A few fine-tuning tweaks can even give an abusive output of 400 horsepower.
With its fantastic handling and tremendous power, this four-door rear-drive will drag you to the drift scene like a boss.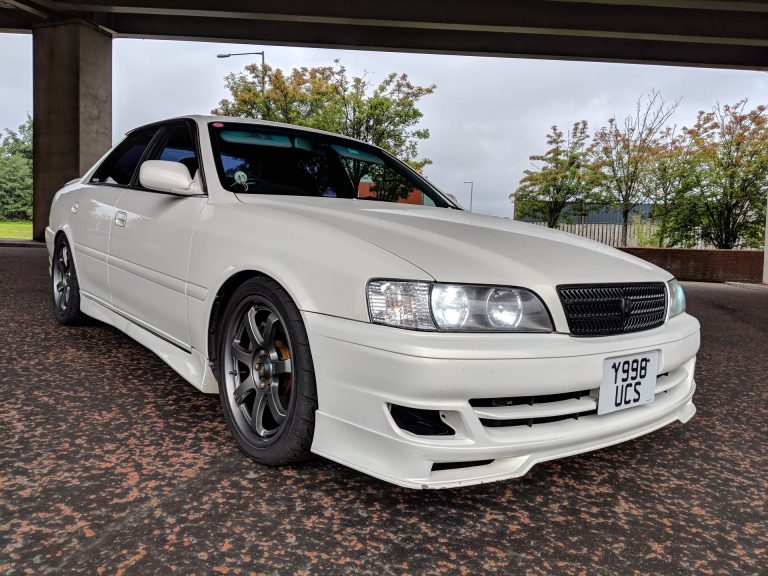 Image courtesy: Driftworks
3. Nissan 300ZX Z32
If you want to enter the drift scene with a powerful yet stylish drift car at an affordable price, then the Nissan 300ZX Z32 is what you are looking for. This drift car carries two faces under one hood – aesthetic knockout and awesome power.
The Nissan 300ZX Z32 is a swagger with its 3.0-liter twin-turbocharged six-cylinder engine that can produce a strong 300 horsepower and a torque of 283 pound-feet. It can run from 0 to 60 mph in 5 seconds and has a top speed of 155 mph.
An entry-level drift car that has excellent handling credentials, power, and beauty at an affordable price, 300ZX Z32 is overwhelming for a beginner.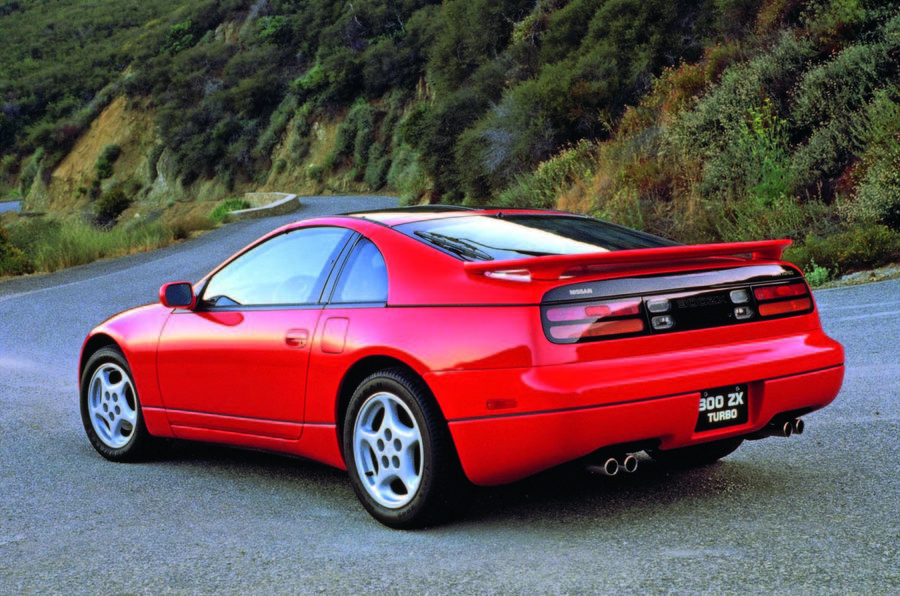 Image courtesy: Driftworks
4. Mazda MX-5
Popularly known in the US as Miata and Eunos in Japan, the do-it-all Mazda MX-5 is consistently one of the most popular roadsters in the market for decades now. For just under $10,000 a used MX-5 can be scored by beginners and tune it up to become an entry-level drift car.
This classic lightweight drift car brags off a 1.8-liter naturally-aspirated four-cylinder engine that produces a power of 140 horsepower at 6500 rpm and a torque of 119 pound-feet at 4,500 rpm. It can run from 0 to 60 mph in 7.8 seconds and reach a top speed of 130 mph.
MX-5 offers solid and reliable automation that will put the widest grin for a beginner drifting hard around the track.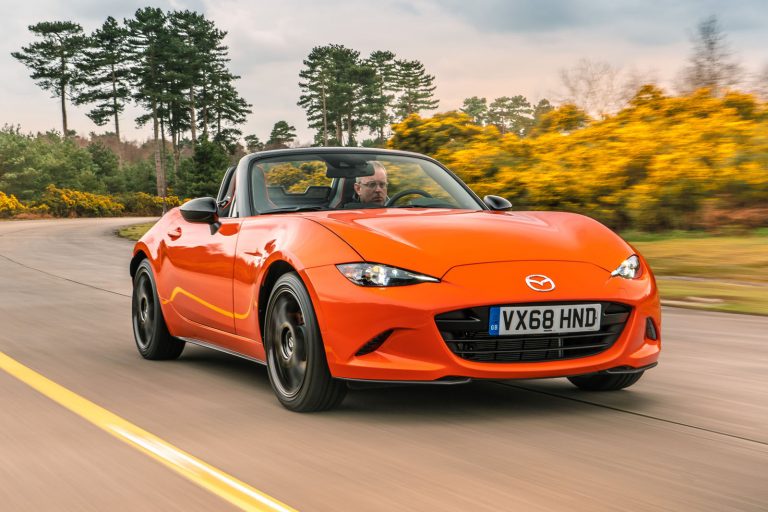 Image curtsey: autocar.co.uk
5. Nissan 350Z
Nissan 350Z is one of the most driven cars by entry-level drifters in recent years. With or without the popularity boost from "The Fast and the Furious: Tokyo Drift" movie, 350z remains unfazed on our list because of its great mechanicals and affordability.
Its naturally aspirated 3.5-liter V-6 engine provides a powerful 306 horsepower at 6,200 rpm and a 268 pound-feet of torque at 4,800 rpm. It can run from 0-60 mph in 5.4 seconds and reach a top speed of 155 mph. The 350 Z's solid six-speed manual gearbox is also bombproof. If you want it more than an entry-level drift car, you can have a few tweaks in the car's steering and suspension and slide around like a pro drifter.
Equipped with, and modern style and design, the 350Z might not be the cheapest on our list, but the combination of drift-ready potential, stunning design, and capability for roof-down slews makes it a popular choice for learning the ropes of car drifting.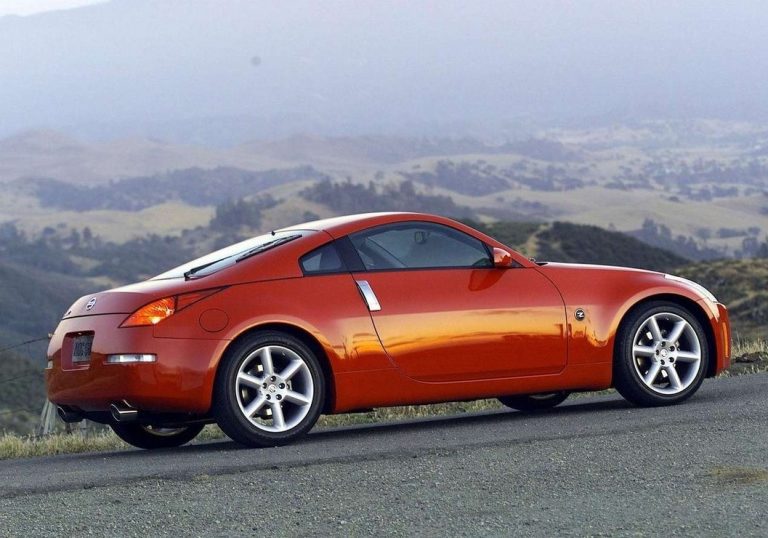 Image curtsey: s-tuning.weebly.com
Car Loans with Aussie
Planning to finance a drift car? Aussie car loans offer various car loan types. As soon as we can take applications again, we can offer an array of car loan products for ease of ownership of a drift vehicle. Aussie Car Loans also offer competitive fixed rates and flexible terms to suit your needs.
Contact Aussie today at 1300 889 669 or enquire online to get a pre-approved loan for your car purchase. To understand how much you can borrow on your income, check our Loan Repayment Calculator.