Motorists in Australia are spoilt for choice when it comes to sports cars. Aside from the typical high-end luxury brands, you can also find sports cars from a host of manufacturers that are affordable but still reliable.
If you're itching to drive fast cars without paying an exorbitant price tag, there are a plethora of affordable sports cars available in the market right now.
If you want to know how much one may cost you, use our car loan calculator below.
Get a high-performance car without breaking the bank. Check out this list of the best and cheapest sports cars in Australia:
Subaru BRZ
Price tag: Estimated $38,990 to$46,890
The Winner of the 2022 MOTOR Sports Car of the Year, the Subaru BRZ is designed to go above and beyond what previous versions have done. The latest BRZ has been completely redesigned and reengineered to create the ultimate joy ride.
Enjoy improved performance with the rear-while drive design that's made to enhancepower, torque, acceleration, handling, and so much more. The BRZ is also powered by a 2.4-litre Subaru Boxer engine.
The exterior's athletic coupe style consists of nailed down aerodynamics and sculpted exterior lines. The look is completed by 18-inch wheels and Michelin Pilot Sport 4 tyres. The inside is nothing to scoff at either with a driver-focused interior and intuitive controls to optimise your comfort.
Interested in the Subaru BRZ? Contact us to see what your repayments could be.
Volkswagen Golf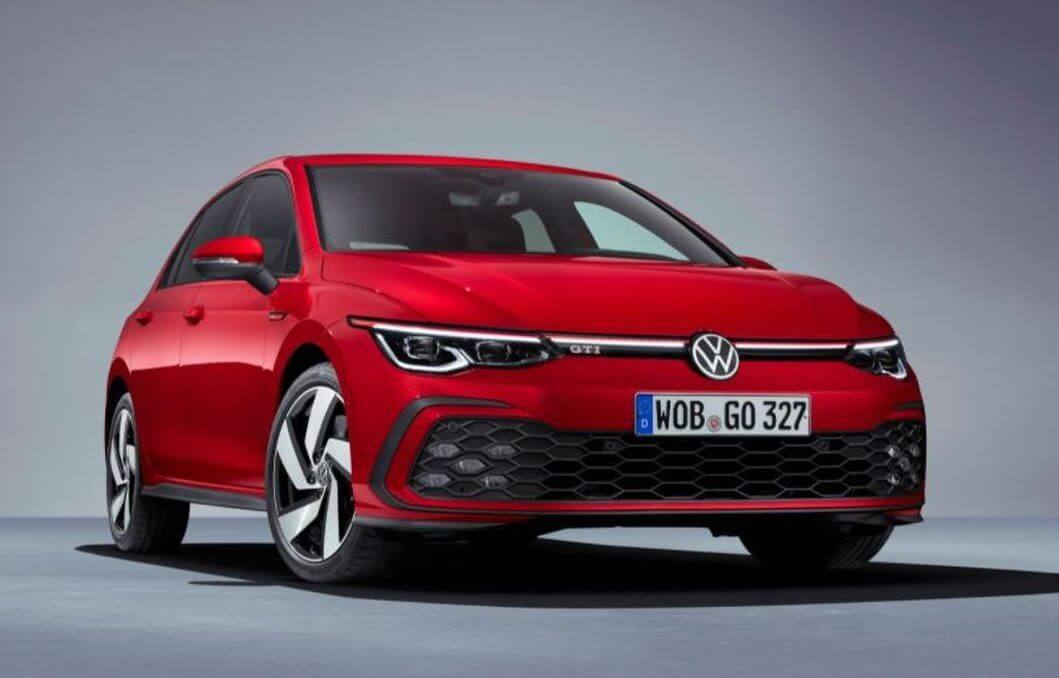 Price tag: Estimated $34,690 to$68,990
The Volkswagen Golf is one of the most in-demand sports cars in Australia—and for good reason. This sports car brings style, innovation, and affordability. Its great price, innovative features, and advanced technology make it among the best sports car in Australia.
You won't find a lack of driver assistance and safety features in the Volkswagen Golf. Equipped with a multi-function camera and radar, the semi-autonomous assistant helps you ensure you stay within land markings, monitor potential collisions, and more. Additional driver support includes intelligent, active steering, accelerating, and braking, semi-automated driving in congestion, and adaptive cruise control, and emergency assists.
The interior is just as jampacked with high-tech features. The Digital Cockpit Pro comes with a 10-inch Discover Pro Navigation System. Control your directions, playlists, and a DAB+ digital radio with just one tap. You can stay connected easily with the integrated App-Connect—seamlessly connecting Apple CarPlay or AndroidAuto. And the 3-Zone Climate Control means you're always comfortable.
The Golf also has an eye-catching exterior with the sporty, low intake front grille and 16-inch or 18-inch alloy wheels. The inside is just as remarkable with ambient lighting colours and decorative inlays.
Interested in the Volkswagen Golf? Contact us to see what your repayments could be.
Mazda MX-5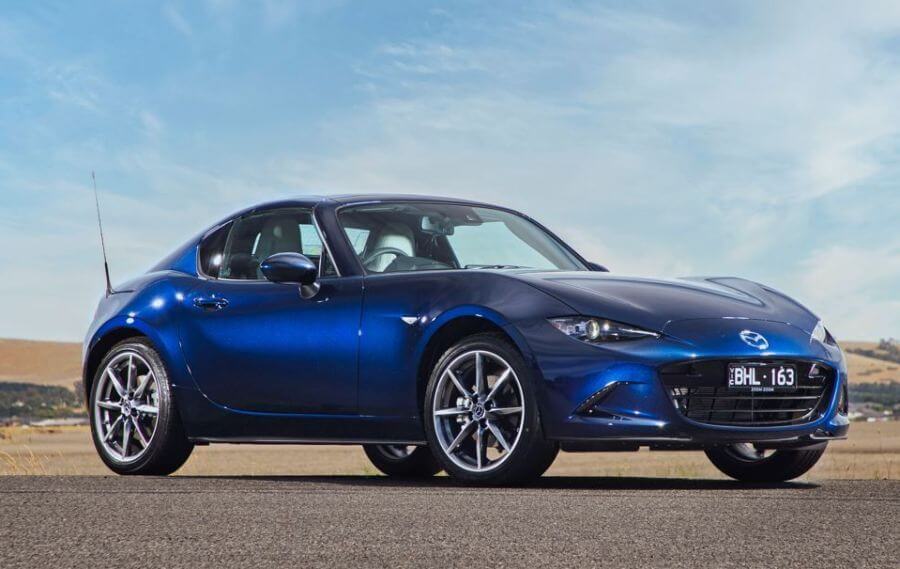 Price tag: Estimated $37,990 to $52,070
When you think of sports cars, you think of something like the Mazda MX-5. A classic two-seat sports car look with a sleek and sophisticated exterior built for high speeds and high performance. It delivers the classic sports car performance and handling. If you're looking for the picture-perfect, wind through your hair sports car experience, then the MX-5 is the ideal car for you.
The MX-5 is designed with a rear-wheel drive layout and equipped with a two-litre 4 cylinder 16-vavle DOHC S-VT petrol engine. The forged 17-inch diameter BBS alloy wheels helps sharpen steering. The car's braking is further enhanced with Brembo's opposed-piston, four-pot front brake calipers for better controllability under high-load braking conditions. The revised suspension helps increase chassis stiffness.
Its interiors are equally stylish as it comes complete with a seven-inch full colour touch screen display. The MZD connect system includes AppleCarPlay, satnavs, and other amazing infotainment features. It has all the features and feel of a classic sports car at a price that's easy on the wallet.
Interested in the Mazda MX-5? Contact us to see what your repayments could be.
Subaru WRX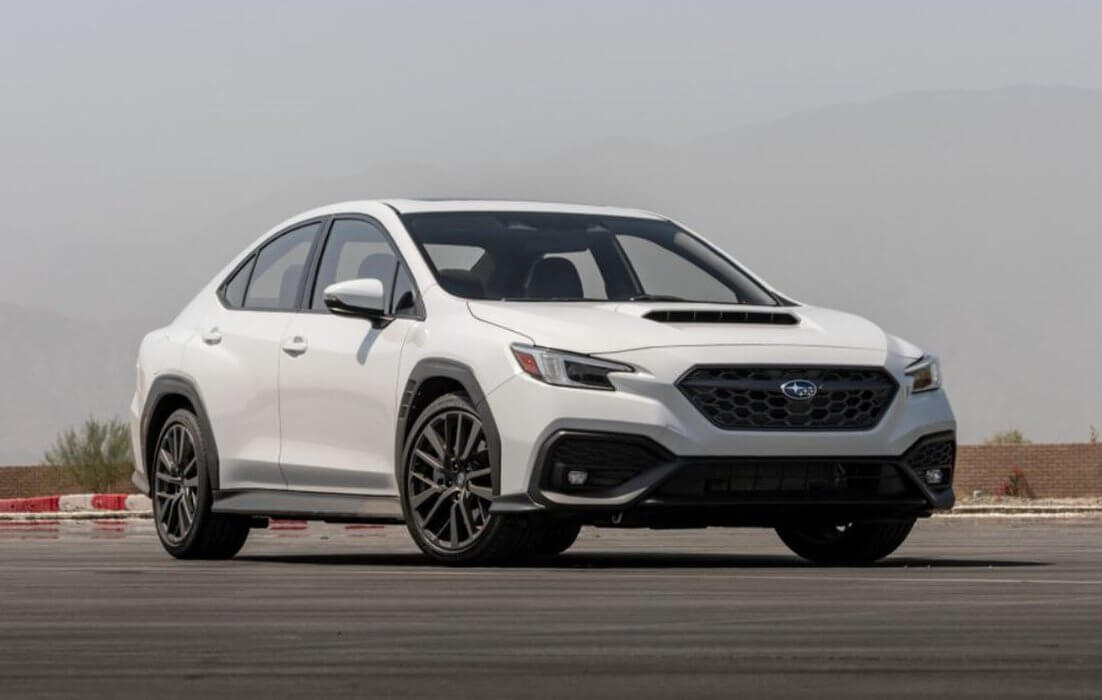 Price tag: Estimated $44,990 to $62,440
You can't talk about affordable sports cars without mentioning the Subaru WRX. Best known for its performance and affordability, the WRXhas garnered quite the cult following in the past decade. It's been on car magazines, featured in video games, and found in plenty of garages across the country.
The latest WRX comes with an all the features drivers love enhanced to all new levels. The super-safe, robust, and incredibly engineered chassis and body continue to set the standard for affordable high-performance sports cars.
The All-Wheel Drive Subaru WRX is one of the most innovative one yet.Its redesigned body improves overall control, steering response, and cornering ability. You'll also have increased power thanks to the 2.4-litre direct injected turbocharged horizontally-opposed Boxer engine. Better dynamic stability and acceleration from the ultra-low centre of gravity and improved power-to-weight ratio and the new Subaru Performance Transmission.
If outstanding performance features weren't enough, the WRX also has a cutting-edge infotainment system with an 11.6-inch tablet-like touchscreen, Sports instrument cluster with Multi-Information Display.
The WRX doesn't cut corners with safety features either. Equipped with state-of-the-art safety technology such as EyeSight Driver Assist system and Subaru Vision Assist technology; you can drive safely in style without a worry.
Interested in the Subaru WRX? Contact us to see what your repayments could be.
Toyota GR86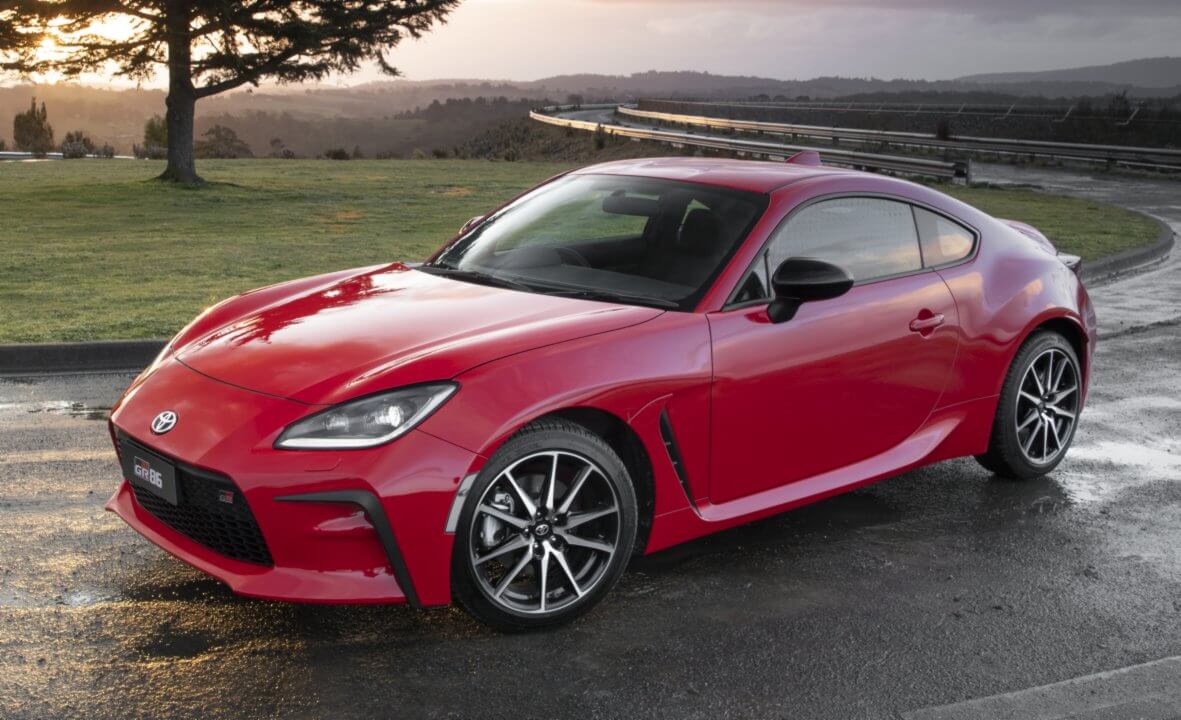 Price tag: Estimated $43,240 to$45,390
Simple, powerful, and fun are the three main attributes of the Toyota GR86. What you can expect is a stiffer chassis and upsized 4-cylinder 2.4-litre engine that delivers 174kW of power and 250Nm of torque. Its exterior is both stylish and functional engineered for an enhanced aerodynamic performance.
It's an affordable sports car with a choice of either a six-speed manual transmission or an automatic transmission with paddle shift. It's built for adrenaline pumping excitement and created for a true sports car experience. This wasdesigned foroptimal handling with perfectly weighted steering and maximum responsiveness.
Not only does it feel great to drive, it looks exceptional too. The design of the GR86 is amazing, from its dual alloy wheels and dual exhaust tips to incredibly detailed interiors, you'll feel like you're ready for the race.
Interested in the Toyota GR86? Contact us to see what your repayments could be.
Kia Stinger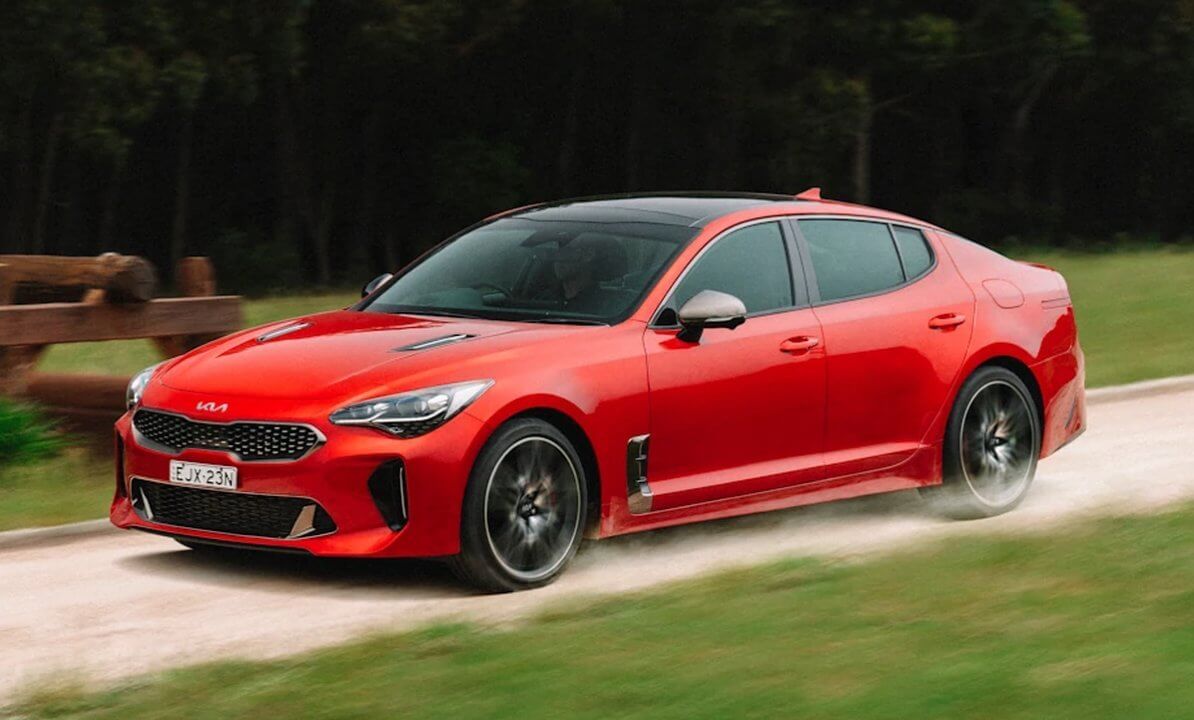 Price tag: Estimated $51,250 to$64,960
The Kia Stinger is all about elegance and extraordinary performance. It is the ideal car for open road touring. This five-door performance car boasts a timeless design paired with agile and responsive features
The Stinger has a unique yet still perfectly balanced fastback appearance. It combines brilliant engineering with the artisan's careful eye for design and beauty. This sports car combines performance, comfort, and style in an exceptional high-calibre vehicle.
The interiors are equally impressive with a 10.25-inch HD touch screen, premium Harman/Kardon speakers, ambient mood lighting, and inbuilt satellite navigation with smartphone connectivity. Drive in comfort and style on Nappa leather appointed seats with heating and ventilation.
Interested in the Kia Stinger? Contact us to see what your repayments could be.
Hyundai i30 N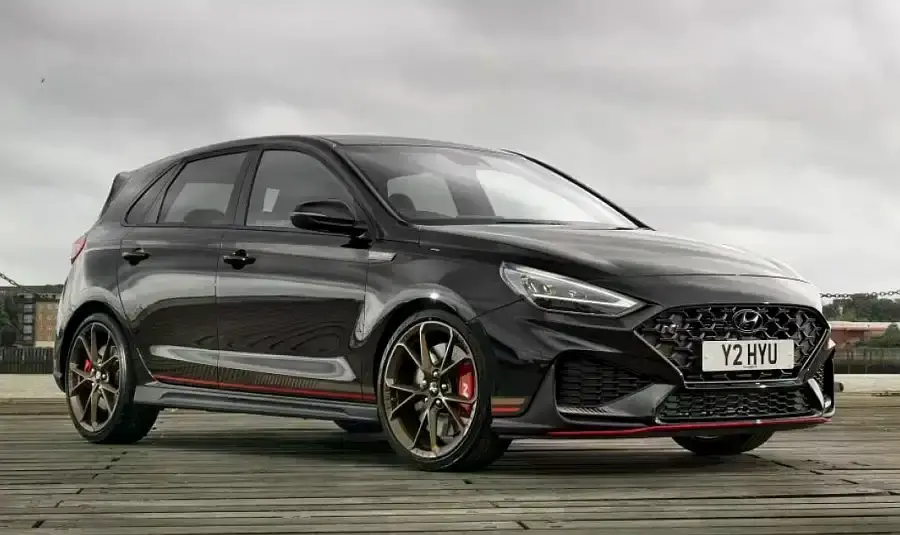 Price tag: Estimated $23,720 to$56,200
By far the cheapest sports car on our list is the Hyundai i30 N. Designed to provide the best performance and comfort, the i30 N balances power and racetrack-ready driving dynamics with the comfort-oriented daily commuting.
The i30 N is equipped with N DCT eight-speed dual-clutch transmission with paddle shifters to improve flat power and torque. To make sure everything is in top form, the i30 N has the Performance Driving Data System that lets you monitor and improve driving performance like PS, Torque, Turbo Boost, G-Force, and lap times.
Other features of the i30 N are the latest Hyundai SmartSense safety and driving assist features, N Grin Control System, launch control, and rev-matching Level up your driving with the new N performance functions giving you an even better, sportier experience.
Interested in the Hyundai i30 N? Contact us to see what your repayments could be.
Abarth 124 Spider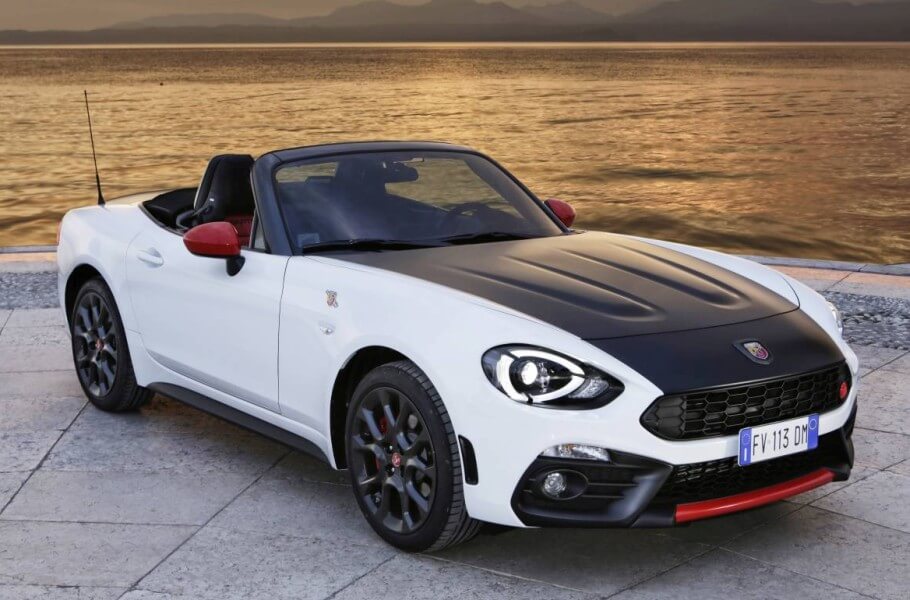 Price tag: Estimated $41,990 to$43,990
The Abarth 124 Spider promises an exhilarating performance for your driving pleasure. It's the perfect blend of classy and sporty—the essence of driving. It has a brilliant class weight-to-power ration with tis 50:50 distribution and a centre of gravity of just 38.5 off the ground.
Expect flawless cornering and exceptional dynamism with the Abarth D.A.M. mechanical limited slip differential. The sports suspension with Bilstein shock absorbers offers ideal road holding, neutral setting and maximum control on every corner.
The Abarth's specific braking system gives you maximum safety without drawbacks on performance quality. Or opt for the Brembo braking system dedicated for your driving pleasure.
Interested in the Abarth 124 Spider? Contact us to see what your repayments could be.
Mini Cooper Clubman JCW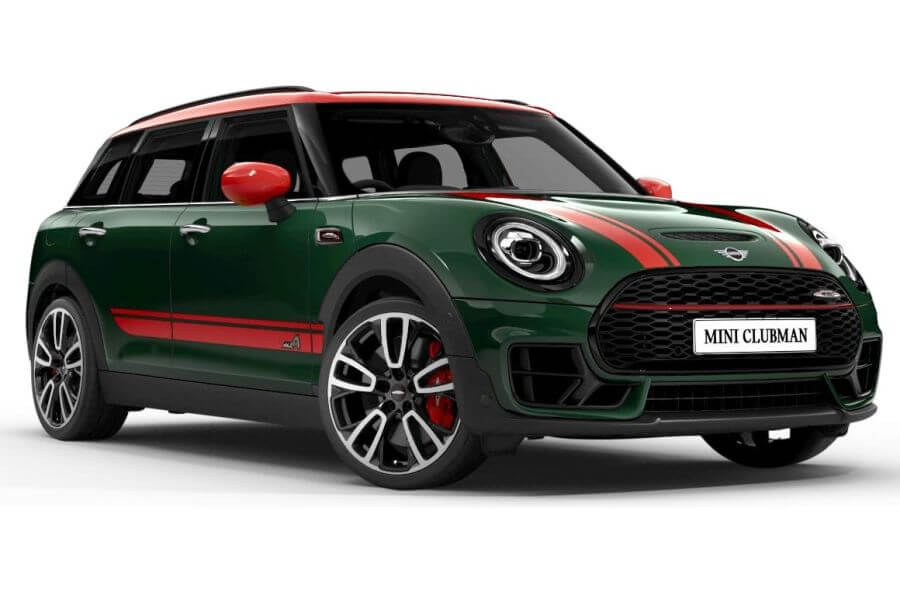 Price tag: Estimated $49,200 to $70,600
The Mini Cooper Clubman JCW is your classic Mini but designed specifically for maximum performance. It's also much roomier compared to the usual Mini Cooper Hardtop to give the best driver experience.The manufactured with premium materials and polished with track-inspired details gives this sports car that exclusive race car feeling.
The Clubman JCW is low-riding and compact with a twin-charge, 2-litre, four-cylinder engine.It has a torque of 225kW and 450Nm which is more than enough to give you the speed you're looking for in a sports car. Its handling is reminiscent of a go-kart completing that racing atmosphere.
Interested in the Mini Cooper? Contact us to see what your repayments could be.
Ford Mustang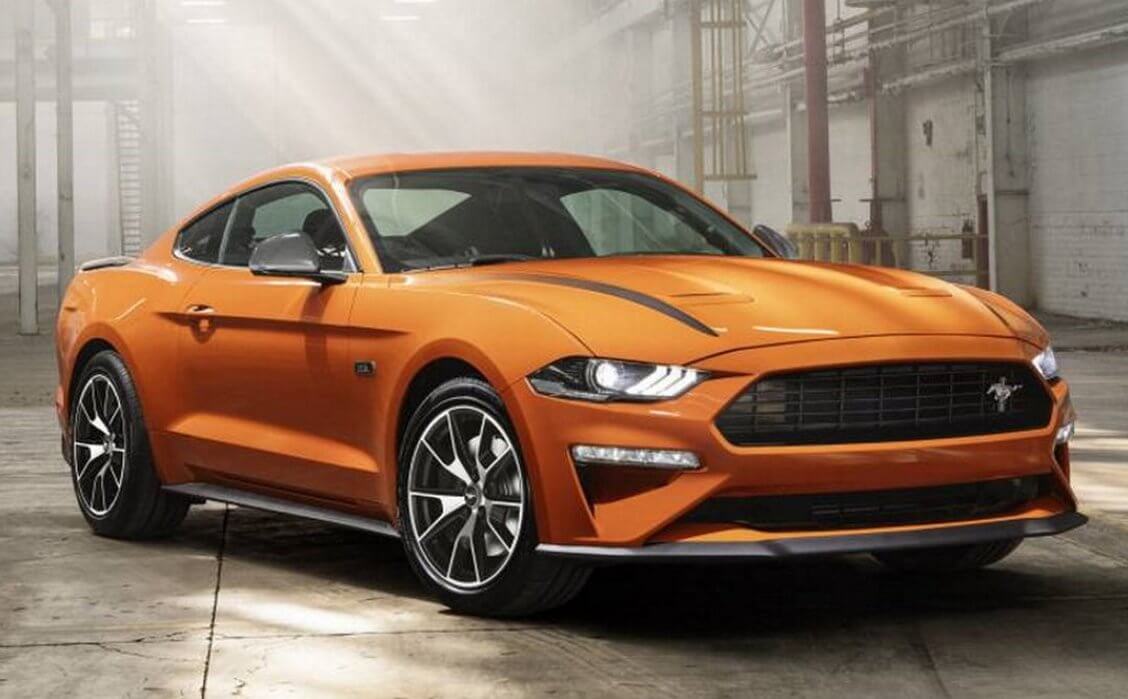 Price tag: Estimated $51,490 to$83,241
The Ford Mustang's reputation precedes itself. With its signature design and classic sports car feel, it's no surprise that the Mustang is one of the most popular fast cars out there. You can pay homage to its rich heritage by choosing the over-the-top racing stripes to complete the race car look.
In its latest iteration, the Mustang mixes style and substance. Choose between the Fastback or Convertible, 5.0L V8 or High Performance 2.3L and experience exhilarating performance like no other. Other exceptional features include lane keeping assist, autonomous emergency braking, and adaptive cruise control.
The latest model also has great connectivity with Apple CarPlay and Android Auto, control apps using touchscreen, steering controls, and voice activation. The 12-inch digital cluster is the first all-LCD display offered in a Mustang. Control everything from the throttle, steering to the exhaust and gauge appearance with a touch of a button.
Interested in the Ford Mustang? Contact us to see what your repayments could be.
Need a car loan?
If you're looking for a car loan with a low interest rate, our experienced brokers can find you a low interest rate loan tailored to your financial situation. Get in touch with us today so you can buy the sports car of your dreams! Request a quote here.
FAQ
What is the most affordable sports car available?
The Hyundai i30 N is the most affordable sports car available at the moment. The price ranges from around $23,720 to $56,200. Remember to include additional costs like stamp duty, dealer charges, and the like to get the full cost of your sports car.
Which are the best sports cars under $40,000?
Hyundai i30 N (estimated $23,720)
Volkswagen Golf (estimated $34,690)
Mazda MX-5 (estimated $37,990)
Subaru BRZ (estimated $38,990)
What are the pros and cons of buying an affordable sports car?
Advantages of buying an affordable sports car include:
Getting a high-performance vehicle at a fraction of the price
Sports cars typically hold their value well against depreciation
More opportunities for customisation and personalisation
Disadvantages of buying an affordable sports car are:
More expensive maintenance fees compared to a regular car
Low fuel economy which means a bigger carbon footprint
Little to no storage space
Can you recommend an affordable sports car that is also practical?
The Hyundai i30 N is a high-performance vehicle that's also great for everyday commuting. It's designed to combine great performance, comfort, and practicality. Its interiors are spacious and has storage as well.
Are there any affordable sports cars that are good on petrol?
The short answer is: yes! There are plenty of affordable sports cars with good fuel economy such as the Ford Mustang, Mazda MX-5, Subaru BRZ, Toyota GR86, and Volkswagen Golf.
How does an affordable sports car compare to a luxury sports car?
The main difference between an affordable sports car and a luxury sports car is what features they prioritise. For affordable sports cars, it's all about performance-driven features that improve speed and handling. Although luxury sports cars also have these speed and handling features, these cars also focus on providing drivers with a smoother and more comfortable drive.
If you're looking for a fast and agile high-performance car, an affordable sports car is ideal. But if you want something that gives better comfort, then a luxury sports car is your best bet.
What is the difference between a sports car and a sports coupe?
There is not a clear, definite, and distinct difference between a sports car and a sports coupe. Sports cars may vary in style from a convertible to a coupe to a sedan. Typically, a sports car is defined as a low-built car engineered for top-performance at high speeds. Meanwhile, a coupe is a closed two-door passenger car with a three-box body.
Are there any affordable sports cars with manual transmissions?
There are plenty of affordable sports cars with manual transmissions like the Toyota GR86, Hyundai i30 N, Subaru WRX, Ford Mustang, Mazda MX-5, and Volkswagen Golf.