The thrill of burning rubber at high speed and endurance is at the heart of every V8 Supercar race.
V8 Supercar is Australia's fastest growing top touring motorsport event and is developing as a global sport with a round held in New Zealand and previous events having been held in China, the Middle East and the United States.
Australia is the traditional centre and birthplace of the V8 Supercars with 14 Championship events being held across all states and territories in 2014 (except the Australian Capital Territory). A non-championship event is also held at the Australian Grand Prix in Melbourne.
Two million spectators attended V8 Supercar events in 2013 with a growing audience on national television and a global audience in over 100 countries.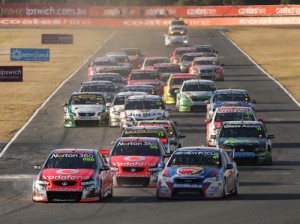 Over the past two decades the V8 Supercar races have been seen as a traditional battle between Ford and Holden, using traditional but modified road going, four-door saloon cars. In recent years Nissan, Mercedes-Benz and Volvo have entered vehicles in the championship races.
V8 Supercar fans are passionate and the teams involved in each V8 Supercar are dedicated to their mission.
There are three types of events with the Super Sprint races being between 100 and 200 kilometres in length.
The Super Street events feature races between 125km and 250km and are held at the Clipsal 500 in Adelaide, the Townsville 500 and Sydney 500's.
The three Endurance Cup events are two-driver endurance races run over 500 km and 1000 km and held at Sandown and Bathurst with a 300km route on the Gold Coast road track. The overall winner of the three events deservedly wins the Endurance Cup.
If you want to experience the thrill of a real race-replica V8 Supercar for just a day, visit the Official V8 Supercar Experience at Norwell on the Gold Coast – it's the only performance driving centre in Australia to be endorsed by the V8 Supercars.
You get the chance to be either driver or passenger in a specially prepared V8 race car. It's an excellent way of dipping your toe into the world of motorsport or just having a memorable day out.
There's no need to dream of being the race champ when you can do it yourself or be part of the official rev-head team at the Official V8 Supercar Experience. Of course a car loan may help you realise your dream if you want to own the ultimate machine!