The ute is an iconic part of the Australian landscape as much as a Hills Hoist. Who hasn't seen, particularly in rural areas, a cattle dog, kelpie or border collie tethered on the rear tray?
A shortened version of 'utility', or more correctly a 'coupé utility', the ute is essentially a two-door vehicle with a cargo tray in the rear. Known as a pickup truck or truck in the rest of the world, only in Australia and New Zealand is it known as a ute. And there's no more apt a name for a vehicle than the ute, traditionally used by tradies and farmers for carrying anything from wood, to steel or the ubiquitous toolbox.
The First Utes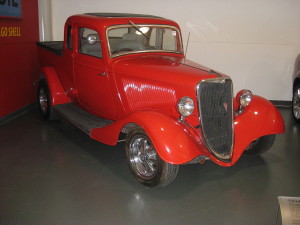 The first Australian utes were produced in the early 1930's by Ford with the claim it was the result of a letter from a farmer's wife in Victoria asking for a vehicle to attend church on a Sunday and one that could carry the pigs during the week.
Ford designer Lew Bandt responded with his design for a 'coupe utility' which went on the market in 1932.
An American version soon followed with the open pickups being produced by manufacturers including Ford and Chevrolet.
Holden produced its own 'utility' vehicle in the early 1950's, beginning the familiar Australian design of a two door vehicle with a rear tray.
Aussie Ute Culture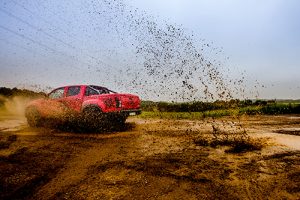 The ute has become part of the Australian culture, spawning the Ute Musters across the country, usually in regional areas. One of the biggest Ute Musters is held in October each year on the dusty plains of Deniliquin in New South Wales, just over 700km south west of Sydney.
Called also the 'Play on the Plains' festival, the Deni Ute Muster attracts tens of thousands of ute fanatics each year and can arguably claim to be the ute capital of the world. At its 15th anniversary in 2013 it topped the world record for the number of Utes in one location, with 8,152 Utes recorded.
The Ute Musters have developed their own culture, with customised utes in the 'B&S style' with large aerials, massive bull bars and mud flaps. And where there is a muster you will probably find a Bachelor and Spinster Ball, competitions and a range of other side events.
Whether it be a ute, or a utility vehicle, you need look no further than Aussie Car Loans to help you with your car finance to get that real beaut ute.
Image credits:
2006 Holden VZ Ute Thunder S – Image by Bidgee1934 Ford Coupe Utility – Image by GTHO