It's all very well looking at the purchase price of a car, but as a recent study has shown, running costs can vary widely (or perhaps that should be 'wildly') from one vehicle to another and have a big impact on the overall cost of owning a car. Although, as you might expect, the pricier models are the most expensive to keep on the road, there are still sizeable variations in running costs between similarly priced family cars.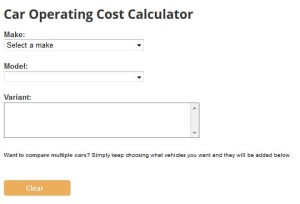 A comprehensive study in 2013 by NRMA of running costs for 1,860 new vehicles found the Mitsubishi Mirage was the cheapest vehicle to own and run, with the most expensive being the Mercedes Benz C63 sports car.
The NRMA 2013 Running Costs Calculator allows new car buyers to determine the weekly cost of running a vehicle and enables buyers to compare different vehicles that could help decide which vehicle is best for their needs. The analysis takes into account CTP insurance, fuel, servicing, registration, maintenance, repairs, roadside membership and depreciation. It's a good idea to check all of this out before committing to buy your car and before you arrange your car finance.
The Mirage was one of just five vehicles that cost under $100 per week to run while the Mercedes C63 sports car cost an astonishing $1,550 per week – mostly due to depreciation. The NRMA has warned that looks can be deceiving when comparing models in the same class. It claims families would have to find an extra $100 per week to own and run the Citroen C4 compared to the Proton Gen 2, despite both vehicles being in the 'Small Car Under $35,000' class.
The gaps between the cheapest and most expensive vehicles widen even further in some classes so NRMA recommends that families do their homework before buying a new vehicle. The 2013 Running Costs Calculator is not just about the price of running a car, as it encourages new car buyers to consider safety and environmental factors along with running costs when buying a new car. The calculator allows for the user to input their own insurance rate as this varies depending on the vehicle location and driver's age and record. Users can also input a custom petrol price depending on the blend they use. Information displayed for each vehicle includes ratings for pollution and emissions, crash rating from the Australasian New Car Assessment Program, electronic stability control ratings and seating and performance data.
Calculations are for private ownership in New South Wales but can apply similarly to any urban area in Australia. They are based on 15,000 kilometres travelled annually over an ownership period of five years. The calculator takes into account the negotiated vehicle price, depreciation, opportunity interest, registration, comprehensive insurance 'entered by the user', NRMA membership, maintenance and repairs and fuel.