There's something to be said about Australian cars. Countless car shows and drag challenges put cars from almost every era of the country's storied automobile history on display. You'll see amazing cars with brand-new or restored engines. Maybe, some with a few extra modifications that could make a purist's blood turn cold but give that extra bit of edge when you want to show off.
Aussies are no strangers to the cult-like status of classic, vintage, and muscle cars with so many much-loved models manufactured right here. See if your favourite legendary Australian car made our list of top Australian-built, classic, vintage, and muscle cars.
A brief history of Australia's automotive industry
In the 1940s, cars were seen as symbols of modernity and progress, so parliament members were in favour of supporting the automobile industry. General Motors (GM) Australia was invited by the government to design an all-Australian car built with Australians and Australian roads in mind. From this came the iconic Holden 48-125 which led to Holden FJ.
Following the success of GM, Ford Australia redesigned the American Falcon to fit the Australian terrain. Chrysler Australia then came up with the Australian version of the Chrysler Valiant. The cars from this era, especially the Holden FJ, became integral to the identity of Australian automobiles. They've also become one of the most popular classic car collectibles today.
The golden age of Australian car manufacturing came next with the muscle car war. What started the Australian muscle car trend was the Falcon GDXR with its powerful V8 engine. Not to be upstaged, Holden (owned by GM) released the Monaro sports coupe with a Chevrolet V8, 250-horsepower engine. Australian muscle car sales spiked making them an instant favourite among consumers.
By the 2010s, car manufacturing in Australia saw a steep decline. After notable car manufacturers halted production in the country and Ford Australia also stopped production of the Falcon in 2016. In 2017, there are no longer any mass production of cars in the country.
Defining classic, vintage, and muscle cars
The definitions for classic and vintage cars aren't set in stone, there is a consensus among Australian classic and veteran car clubs that a classic car is a vehicle manufactured between 1950 to 1989 and a vintage car is manufactured between 1919 to 1949.
Meanwhile, muscle cars are defined by their engines. Made with speed in mind, these cars usually have a V8 engine or something more powerful. Although built for acceleration, muscle cars are typically boxy and aren't very agile compared to sports cars.
The best Australian classic cars
Classic cars are called classics for a reason. Their eye-catching exterior, history, and high value make them incredibly attractive for car enthusiasts. Aside from a recognisable chassis, classic cars also come with features like fender-mounted mirrors, manual hand-crank windows, wood-grain side panelling, and more.
Here are our top picks for Australian classic cars:
Holden FJ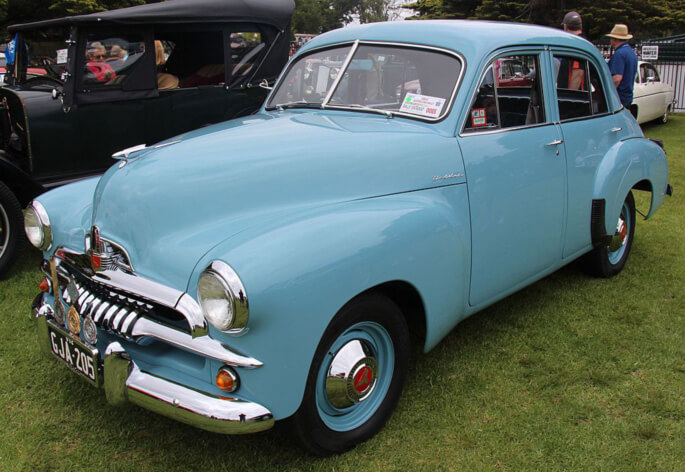 The car that started it all. The Holden FJ had three models in its sedan line: the Standard, the Business, and the Special. Among the three, the Holden Special was the most popular among Aussies because it provided better comfort for passengers.
The Holden FJ has a six-cylinder engine with a maximum power output of 65 bhp at 4,000 rpm and a three-speed shift manual gearbox. It has a split windshield and a chromed grille front giving it that iconic look. The interior of the FJ is just as striking as the outside with contrasting door trim colours.
If you're interested in owning a Holden FJ for yourself, it may cost around $5,000 to $15,000 depending on the condition. This is one of the more affordable classic cars for sale out there.
Ford Falcon XM
The version of the Ford Falcon, the XM had 1,500 modifications which included huge improvements to the chassis, ball joints, front wishbones, dampers, axle shafts, engine mounts, and rear hangers. The windshields also featured a two-speed electric motor unit. It came in a slew of body styles such as a four-door sedan and wagon, as well as a two-door hardtop, ute, and panel van.
The XM has a three-inline six-cylinder engine with three levels of displacement. Higher specification models like the Deluxe or Futura Hardtop had a 3,277cc version that produced 121 horsepower.
You can find the Ford Falcon XM for sale at around $4,000 to $21,000. The price varies depending on the specific make and model. Just like any other classic car for sale, you'd need to ensure that the XM is roadworthy with the needed modifications before taking it out on the streets.
Holden Torana LC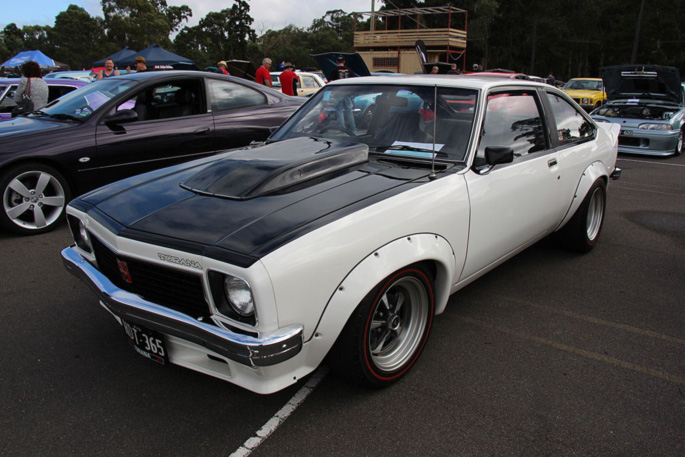 Another Holden classic is the Torana LC, which was manufactured in 1969. It was the second generation of the Torana line and came with two engine options: four-cylinder or six-cylinder.
The wheelbase of the six-cylinder engine version was longer at 100 inches compared to the four-cylinder version at 95.8 inches. The six-cylinder version also had a longer front to fit the much larger engine.
What made the Torana LC a cut above the rest was its power and flexibility, especially with the four-cylinder version. Its suspension, steering, and brakes were top-of-the-line making it an incredibly balanced machine. It also won the Car of the Year award from Wheels magazine. This classic car can cost around $13,000 to 34,000.
The best Australian vintage cars
Because the Automobile industry in the country gained traction in the 1940s, the choice of vintage cars for sale aren't as extensive. However, there is a clear standout here which was the Holden 48-125, also known as the Holden FX.
Holden 48-125 (FX)
This was the first car by GM to be dubbed Holden, and the car that started it all for the Australian automobile industry. It's one of the 'collectable classics' car aficionados are always on the lookout for. It was beloved during its time as well becoming one of the top-selling cars in the country upon its release.
The Holden 48-125 has one 2.17-litre overhead valve and a six-cylinder engine that could withstand the Australian terrain, which was a huge selling point at the time. It was equipped with a three-speed column shift manual gearbox, front coil springs, rear leaf springs, and drum brakes.
This Australian vintage car costs around $2,000 to $50,000. When shopping around for a Holden FX, be sure to inspect the vehicle thoroughly. With vintage cars, it's common to see some vehicles in a state of rusty disrepair, so be prepared to make some restorations.
The best Australian muscle cars
Australian muscle cars are defined by their powerful engines and unique boxy shape. Although muscle cars are often attributed to American automobiles, Australia had its fair share of notable muscle cars too. Here are some of our favourite Australian muscle cars:
Holden HT Monaro GTS 350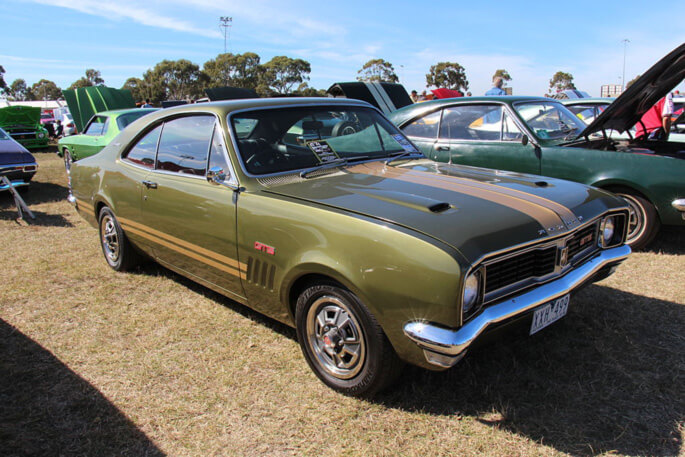 The HT GTS 350 released in 1969 was a revamped version of the Holden HK. The Monaro line was Holden's main car for racing with its V8 5.7-litre Chevrolet engine with 300bhp. This also marked the 5.0 litre Chevrolet V8 being phased out and replaced with the locally made Holden V8 engine, the 4.2 litre 253 and the 5.0 litre 308.
The automatic version had 5.7-litre and two-speed power glide transmission. The engine has always been listed as one of the best V8 engines ever made. In 1972, a touring class for this model was released but it wasn't eligible to race due to the "supercar scare" where many became wary about the safety of these powerful muscle cars designed for racing being sold as regular street cars.
The price of the Holden HT Monaro can go from $35,000 to $350,000. It's a huge price range but it all depends on the condition that's available for sale.
Ford XY Falcon GTHO Phase III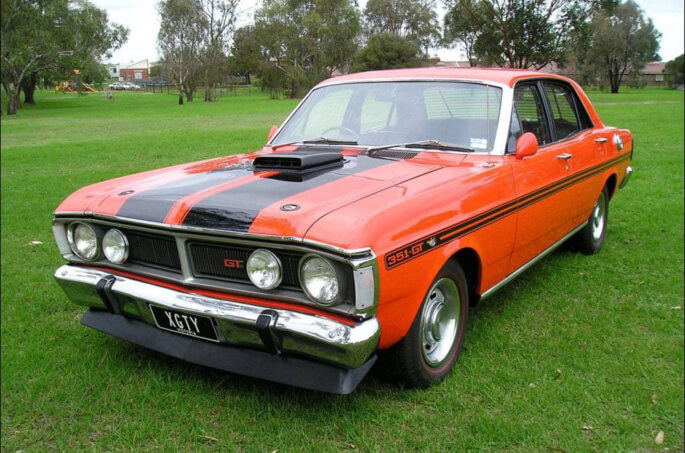 Among the most coveted classic cars in Australia, the Ford XY Falcon GTHO III can cost collectors and investors over $600,000. You can attribute its popularity and incredibly high cost to the fact that it's one of the rarest ones out there. During its initial release, there were only 300 units manufactured and sold to the public.
Another reason why this model is so popular was because it helped Allan Moffat win the 1971 Bathurst 1000 and the Australian Touring Car Championship. It has a 5.8 Litre Cleveland V8 engine with a four-speed top loader gearbox and Detroit locker nine-inch differential that makes it a heavily equipped version of the Ford Falcon.
This model was also considered the fastest four-door sedan in the world in 1972 when it reached 7,000 rpm at fourth gear. It was one of the most powerful cars around and with only half of them still believed to have survived, quite rare. It's why this car can cost around $150,000 to $1,000,000.
Chrysler Valiant VH Charger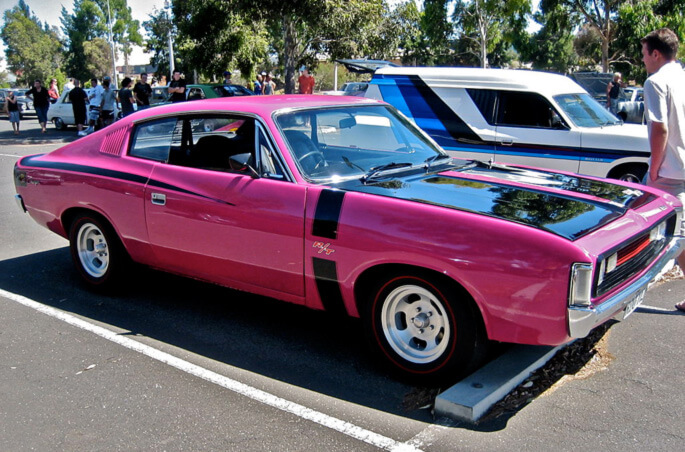 Some Aussies might remember the VH Charger for its "hey charger" advert, but car enthusiasts remember this classic for much more than a catchy commercial. Released in 1972, the Chrysler Valiant VH Charger E49 is part of the Valiant Charger line. It competed at Bathurst and placed third. The Valiant VH also won Wheels magazine's Car of the Year award.
It had a six-cylinder pacer with a three-speed manual transmission. The engine produced 225 kW and has a four-speed Borg Warner gearbox. The Valiant VH had great handling which was great for drivers.
The Valiant VH came with other notable variants such as the Road and Track models (also known as R/T models). Only 1,300 were ever produced which makes it one of the most coveted Australian muscle cars. This car model ranges from $30,000 to $500,000.
Notable classic car manufacturers in Australia
When talking about classic, vintage, and muscle cars, three noteworthy car manufacturers come to mind. These care manufacturers have contributed immensely to the country's automobile industry. In addition, you'll find that most (if not all) of the most popular classic, vintage, and muscle cars come from these three manufacturers.
Holden
Holden, owned and operated by GM, was the first car manufacturer that not only built but designed cars specifically for the Australian market. The introduction of the Holden FX was the start of a thriving automobile industry in the country.
In 2019, after decades of success, the last of Holden's assembly factories closed. After, GM announced that it would also phase out the Holden nameplate. Today, Holden has ceased operations both in Australia and New Zealand.
Ford Australia
Ford started manufacturing Australian-built cars in 1925. After launching the Australian Ford Falcon, the car manufacturer continued to produce top-notch vehicles ranging from utes to sedans to muscle cars specifically for the Australian market.
Like Holden, Ford Australia halted production in the country. You can still purchase a Ford vehicle today, however, they will be imported from overseas.
Chrysler
Chrysler was one of the "Big Three" manufacturers in Australia back in the 1950s before Asian manufacturers entered the market. Notable classic car models from Chrysler include the Valiant which was among their more popular vehicles. Later on, Chrysler was bought by Mitsubishi and continues to import Mitsubishi vehicles. Chrysler officially stopped manufacturing in Australia in 2008.
Want to have a classic, vintage, or muscle car of your own?
At Aussie, we can provide you with a classic car loan so that you can get your hands on a collectible classic. Start shopping for classic Aussie cars when you get a classic car loan. Apply online or call us now on 1300 889 669.
FAQs
What qualifies as a classic car in Australia?
Depending on where you live, a vehicle can be considered a classic car if it's 25 years or older. Some states consider a car 30 years or older as a classic car.
Do classic cars need to be registered in Australia?
Yes, you must register your classic car under the conditional registration scheme. Drivers must follow the conditions set to ensure the classic car is roadworthy.
What is the process for importing a classic car into Australia?
To import a classic car into Australia you have the following steps:
Apply for approval to import the vehicle to the Road Vehicle Regulator (ROVER)
Receive approval from ROVER which may include conditions for use of the vehicle.
Arrange for shipping.
Acquire customs clearance.
Pay the required fees.
Follow Australian quarantine requirements.
If necessary, modify the vehicle to meet guidelines.
Register the vehicle.
How do I find parts for my classic car?
You can find parts for your classic car online in different classic car groups or clubs and organisations. There are also auto body shops that could have the part you're looking for. Salvage yards, swap meets, and knock-off manufacturers are also other places you can check out.
Can I drive my classic car on Australian roads?
You need to register your classic car and ensure that it's safe for the road. Each state and territory have their own guidelines on what modifications you should make. Your classic car should be roadworthy before you're able to drive it on the road.
What are some of the most unique classic cars?
Check out our collection of classic cars to spice up your life.