So you're looking to buy a car and you've decided that this time you're buying a new car. You want that fresh, new car smell, clean, unmarked body, full factory warranty and the assurance that this will be your baby and never have been anyone else's.
It sounds great and we'd love to support you, so talk to us about a pre-approved loan before you start shopping.
The truth is if this is your first time buying a new car you're probably wondering when to start. There are certain times of the day, month and year, when you're more likely to get a better deal on buying a new car.
We want you to get the best deal so we've provided these timing tips to help you out.
End of Financial Year
You probably already know this, but the end of financial year sales are a bit of a big thing when it comes to car sales. This is when they want to clear out of the previous year's models to make way for new ones and drive up their sales figures for the year. You'll find new cars already discounted and dealers are more willing to negotiate on price.
Christmas & End of Calendar Year
You may not be thinking about buying a new car in the lead up to Christmas, but neither is anyone else! Dealerships will often be more willing to negotiate on prices in the lead-up to Christmas and the end of calendar year as most potential customers are shopping for gifts in toy stores. There's also the need to clear out as many cars as possible as those with last year's build plate are harder to move in the New Year. These end of calendar year prices can sometimes carry over into January too.
New Model Run-out
Pay attention to when new models for the car you're looking at are due to come out. This is when dealerships will offer special prices to clear out the old models to make way for the new. There can also be a reduced market in this time as many customers will choose to hold out for the arrival of the new model. This period can last through the lead up to a launch and in the month or two that follow.
End of Month
On a more localised level, you can sometimes negotiate better deals at the end of the calendar month when sales targets are looming. Salespeople in dealerships have monthly targets and if your salesperson hasn't met their targets yet they'll be keener to make a sale than hold out for a larger commission. Negotiating towards the end of the day can also help as they'll want to get the sale before you get to go home and think it over.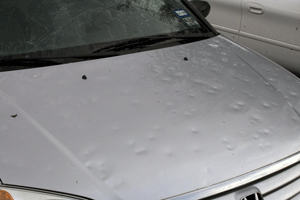 Hail Damage
Firstly, we do not recommend buying hail damaged cars. They can work out to be more trouble than they're worth – you can't be certain what's damaged, cracks can lead to water entry into electronics and many insurers just won't cover a hail damaged car.
However, after big storms many buyers flock to hail damage auctions, leaving quiet dealerships that are a little more willing to negotiate on prices.
Hopefully these tips can help you find a new car at an affordable price. If you're in need of car finance talk to the team at Aussie Car Loans today. We can also offer insurance and even extended warranty on some new car purchases.